A not so wonderful thing I have learned over my many years of work and play is, unless I do something regularly, it is really easy to forget exactly what I did to achieve something. Mainly, now I am building my websites over time, I needed a gentle nudge to remember the solution to building my own website.
My career path meant I did have to create some things more than once. However, the timeline for doing this, mostly occurred several years (or more) apart. It turned out I almost had to completely relearn how to do these things. I considered this a waste of time.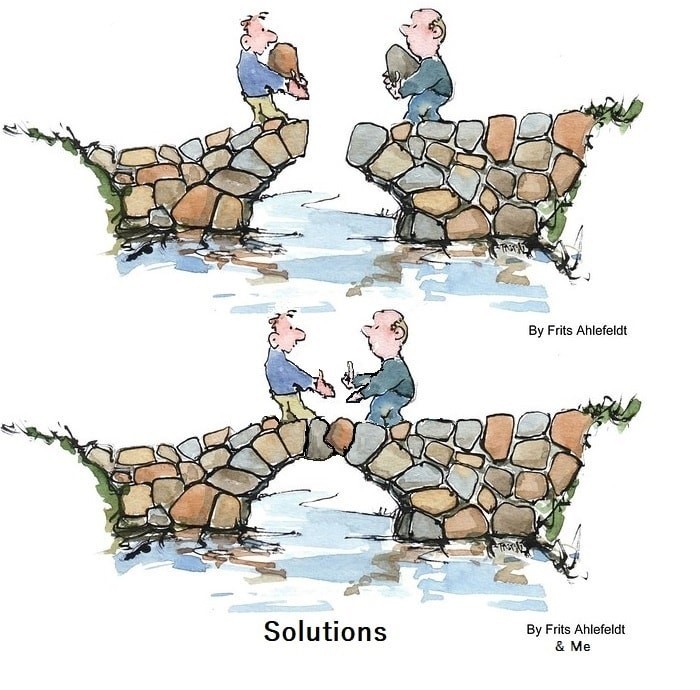 My solution was to master a process, take notes while doing so and then write these into a self tutorial format.Did that work. Let me say, once my colleagues found out I had these self-help tutorials, I was swamped to give them copies. In a very short time everyone was using them. As my colleagues existed in many fields and areas, the expanse of usage was truly astounding. In fact, as a result, I have achieved several awards for creating these. My main reward was the satisfaction and ease that my friends could use these.
I am still doing this in my online, after the rat race, work. I recently set up a new website – 3 years after the first. Well did I get muddled. Most of it I relearned quickly but I left out several important ingredients.

For your edification, I present here my 'build a website solution'. This includes those ornery little ingredients I tend to forget over time. Here I will say, if you have ever built a website with WordPress via Wealthy Affiliate, and I have omitted some gem you have found, please let me know in the comments below.
Precursors To Setting Up A Website
Once upon a time, I was looking around to find out how to use the darn internet to have some fun and hopefully be rewarded. When I grew up, computers weren't even in sight, never mind the internet.
But with my work I had learned how to use the computer and its various components and made myself proficient on it. So I figured it wouldn't be too hard to learn the rest. Well, boy did I luck out. I found a group, Wealthy Affiliate, that would help me, had an enormous gathering of like-minded folks and were very economical. Mind you, success still depended on how hard I was prepared to work.
Once I set my mind to something, (and that can take a while) I become totally focused and oblivious to everything else.
OK, there are some precursors to setting up a website. Precursors such as:
– The first precursor was finding a group proficient in building websites. I found Wealthy Affiliate. Win number 1.
– What are your goals with your website,
– What do you want to present, or as known in the trade, what is your niche
There are millions of niches and your own life will give you a selection, since niches are what you are really interested in. Sure you can pick some not so well-known, to you, niches but why not start with something you love, and have knowledge of. That's way easier than starting a new idea from scratch.
– Finding Keywords. Ornery little critters but very important. Just think about what words you use to find something on the net and you have keywords. This link is a fairly formal article but I did another when it became apparent that the actual meaning of keywords was not clearly understood.
Along with these there a number of other things I talk about. You can some ideas from my Stairway to Freedom.
The Birth of a Website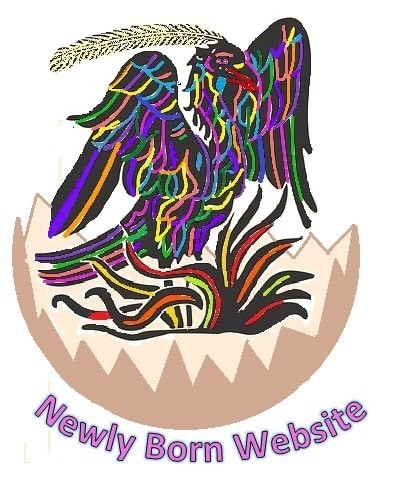 I was very lucky with this birth in that our Wealthy Affiliate Webinar presenter gave us a tutorial; not about a how to do a new website but how to do something that required a new website to work with. So I have unraveled his speedy lesson into simple steps that I can follow in the future.
Initially this birth was entirely for my benefit. As I worked through it, I became positive there are those of you visitors, who will find this solution pretty beneficial too.
Mostly, I have set up a series of images illustrating what to do to construct your website. Some are compilations of several sequential images.
I have done this within my Wealthy Affiliate group as they have automated many steps. So here we go towards a beautiful website.
Create a New Website in SiteBuilder
The starting line here is SiteBuilder within the Wealthy Affiliate portfolio. If you are working strictly with WordPress, you will need to login to your account there and proceed to built your new website.
SiteBuilder results in a website that has some very important features built in. Features such as SiteSecurity, SiteSpeed and SiteSpam Blocker.
I am building my new website using Wealthy Affiliate's shared hosting with SiteRubix. This is a great free building website and once it is done to my satisfaction I can find my own domain (.com preferably) and transfer it over. For my convenience WA also can provide this domain at a very reasonable price. You just need to find an appropriate one that hasn't already been purchased!
As per Image 2, this basic step is to set up your website domain name and title along with choosing a website Theme. There are thousands of themes available. I suggest finding a simple, non cluttered one to start with.
Once you click 'Here to Build This Site!' the screen, (Image 3) confirming the build appears. Check your Website URL for correctness. Please note at this time, if you are using SiteRubix and you make an error you can delete the website. BUT you might not be able to use the same URL so will have to modify it.
Your Admin Login is shown. Later on you should add a new user. That will be you by name. This will help personalise your website.
Also shown are the automated actions I mentioned previously.
If you are continuing on immediately then Click on the 'Login Now' button. This takes you directly to the WordPress dashboard.
If you take a break and leave your website then proceed as Image 4 below.
You are now the owner of a bright, new and shiny website. When I built my first website, at this stage I got pretty excited.
Let us now build it out. The next few images show you how to start this. First of all you need to login. As I mentioned above if you click on the 'Login Now' button in the above image you end up in WordPress.
If you don't proceed at this stage, then to login follow Image 4.
For starters, remember I am doing this via Wealthy Affiliate so am I starting at their dashboard. If you are going straight to WordPress you will start with theirs. When I log on I will also end up in WordPress.\\
Image 4 shows the Wealthy Affiliate Dashboard. Just follow the steps to Site Manager. This opens to show all your websites. Two of mine are shown here. I will log into my new site, howtobuildanewwebsite.siterubix.com.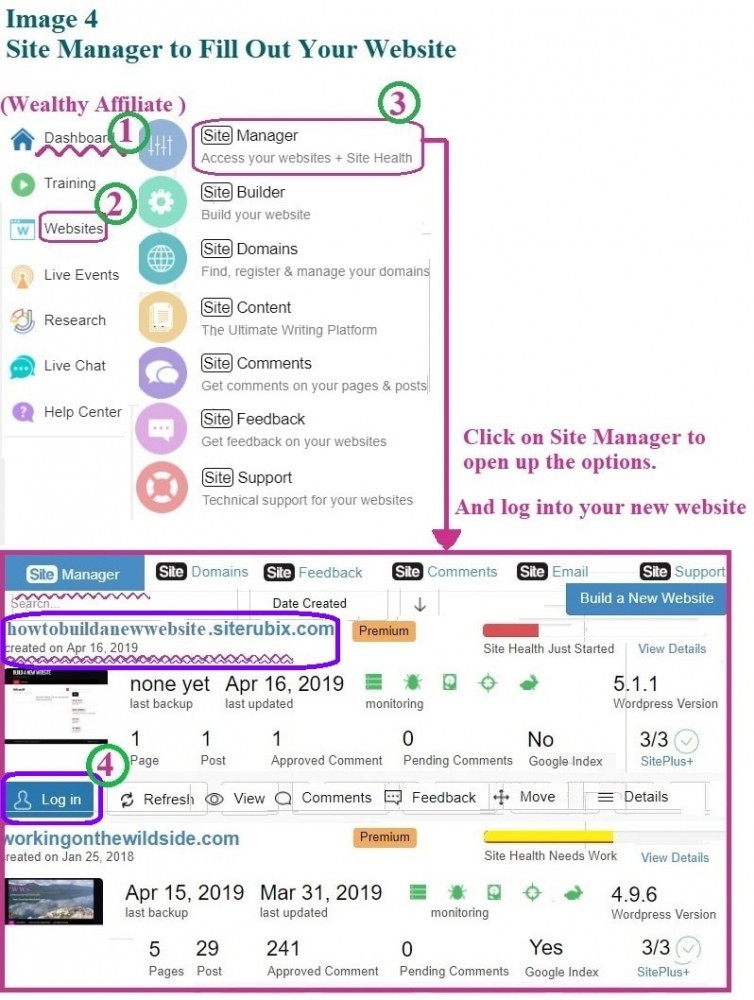 Logging in to my new website puts me in WordPress. Now we need to get rid of some stuff. Again follow the steps shown on Image 5.
Firstly dismiss the welcoming section. Secondly click on Screen Options and then remove Quick Draft an WordPress Events as shown
Continuing right along, as shown on Image 6, now grab 'Activity' and drag it to the position shown.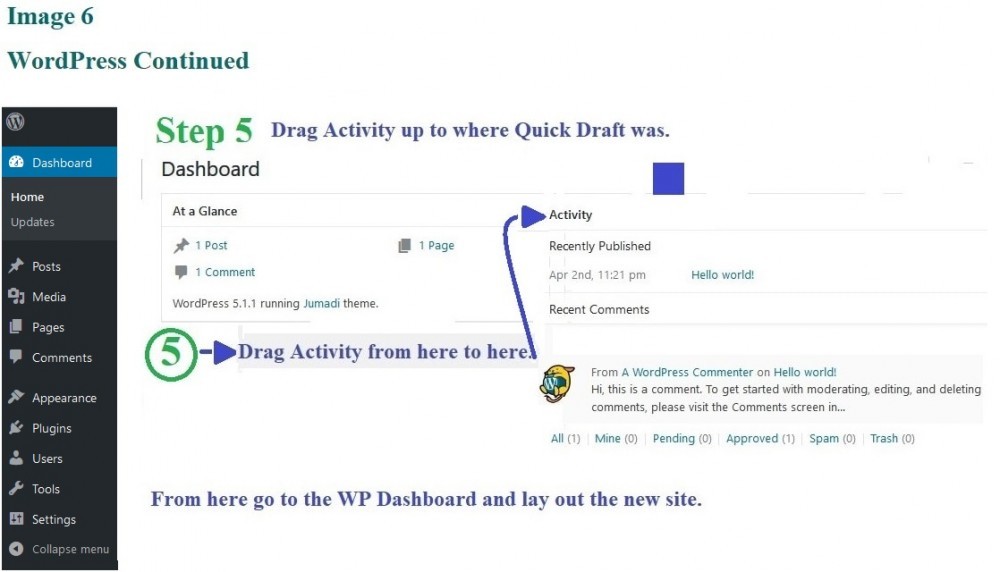 Settings, General 
Go to Image 7 Settings, General & fill out the information below.
Enter your website title. Note that this is changeable if you find a better one. Just never change your URL!
Recently a bunch of us had some trouble when the European General Data Protection Regulation (GDPR) was enacted. Generally this applies to Europeans but may impact on you if your visitors come from there. This is a separate subject and most websites built here have this written in.
Now the trouble was a glitch that allowed any person to butt into your website. In my case it locked up my website. Wealthy Affiliate's sterling Help, sorted me out in record time. The problem was that the 'Anyone can register' box was ticked. This was quite scary so do make sure you untick it.
Your time zone is also important. The wrong one can lead to funny results.
Go to Settings Media
Settings Media is pretty straightforward. The sizes are fine as is. All you need to do is untick the 'Organise my uploads into …..'. And of course save the changes.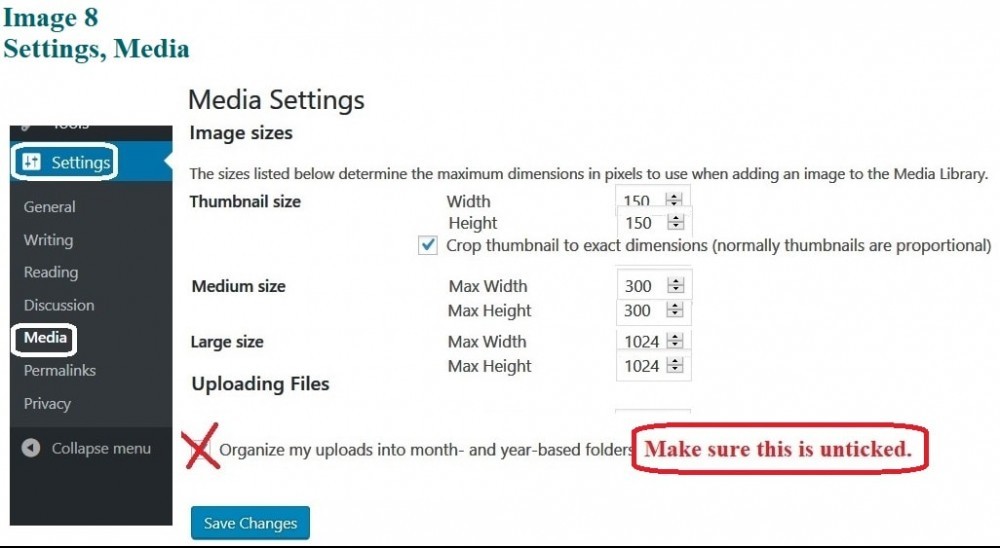 The Permalink information in Settings should be completely fine. These are something only advanced people can do with any confidence. But if you do manage to change anything safely make sure you Save Changes.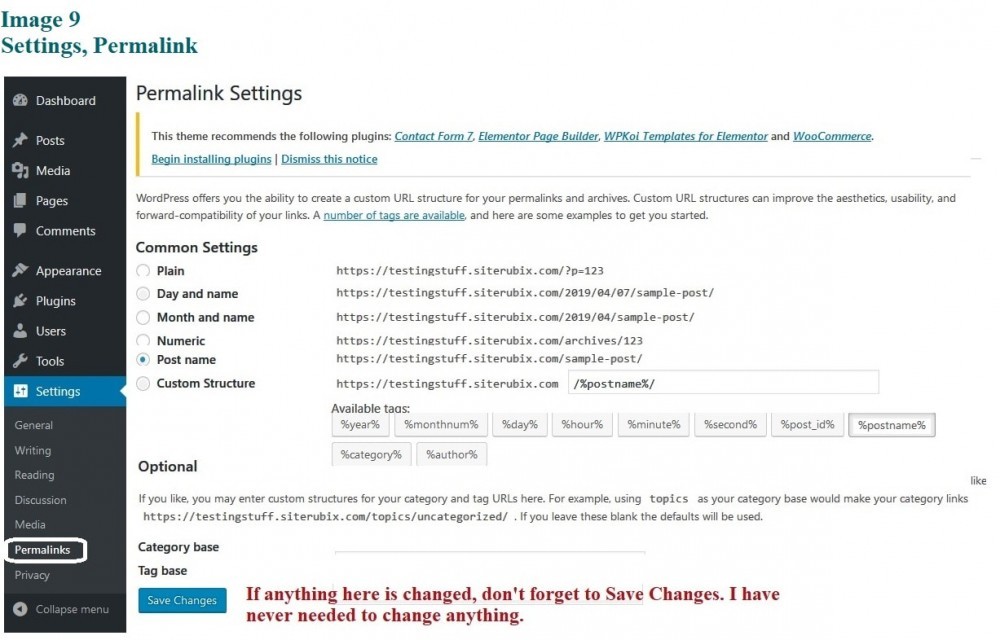 Go to Posts, All Posts
Ready to start on fixing Posts and Pages. You bet you are. Both of these come with some defaults. These need to be trashed or you get some totally out of context information. The next two Images 10 and 11 are treated the same way. Just the messages change.
The Post default (Image 10) is the 'Hello World'. Now that sounds a bit corny in anyone's words. Not a necessary statement.
This is a two part action. Firstly trash it. The garbage bin now has one item But we don't need it at all so secondly click on Trash and in the Bulk Actions Delete it Permanently. Viola no more rubbish.
Go to Pages, All Pages
Now to trash the Page defaults (Image 11) . There are two defaults with the Pages the Privacy Policy and the Sample Page.
You will need a Privacy Policy but you will do this as a separate page, later on, for your own personal use. The Sample Page is also an unnecessary article.
Again this is a two part action but slightly different as there are two items to trash.
Firstly trash them. The garbage bin now has two items. Then to permanently delete them click on Title to open both pages and tick both boxes. Then open Bulk Actions and Delete them Permanently.
Don't forget to Apply the Bulk Action.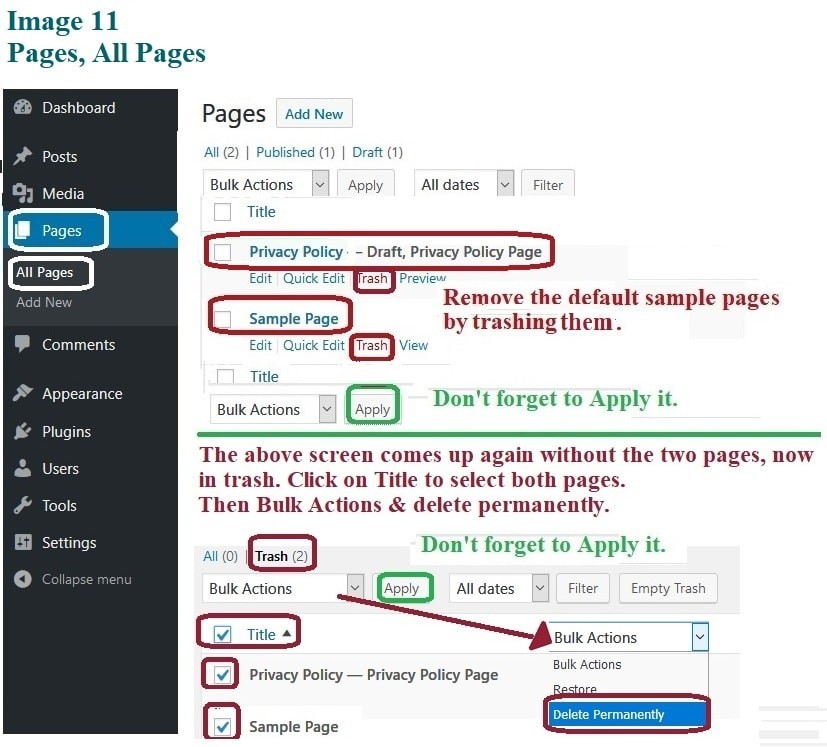 Your pages and posts are now clean so start writing.
But before you do there are some website formatting things to do.
Got to Settings, Reading
In the webinar example, the Reading items are different to what my website theme shows, if so you can set a Static Page elsewhere.
To set a static page you might have to go to All in One SEO as one theme I tried didn't have the same availabilities in Reading.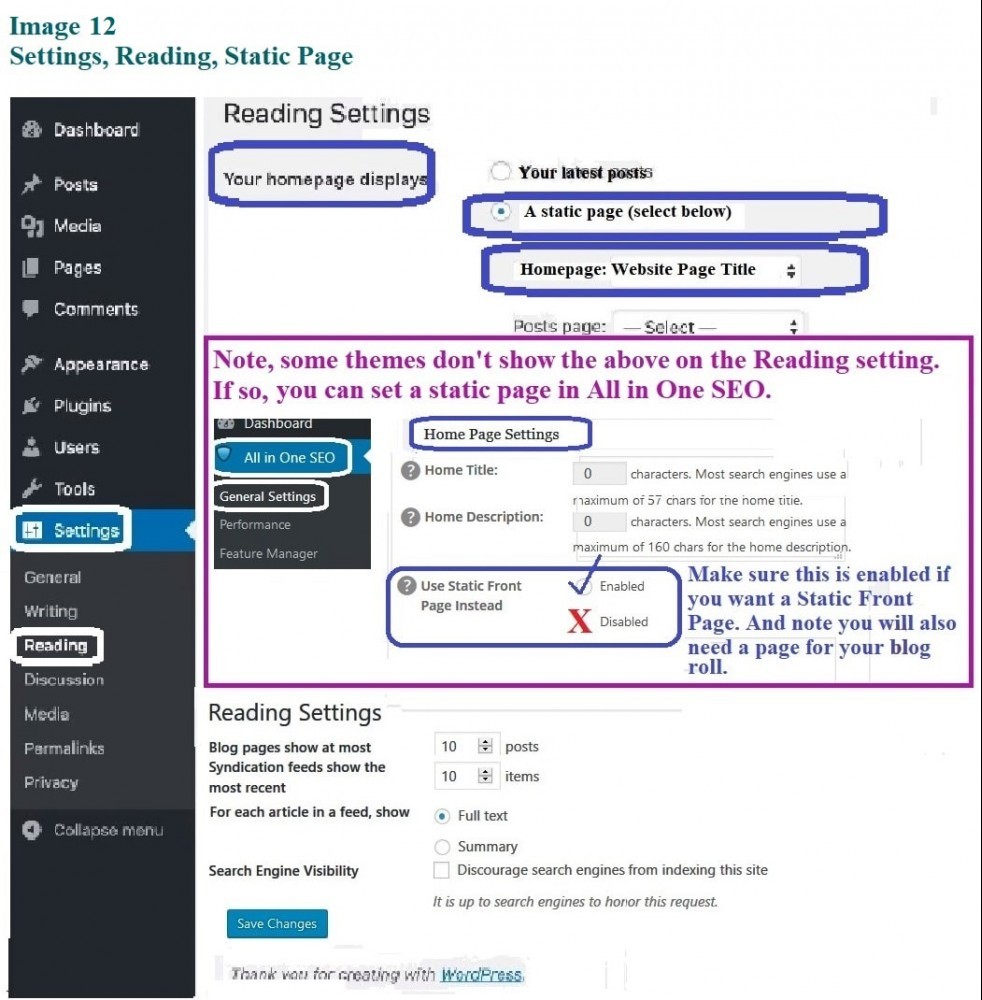 Activate your All in One SEO
At this point, activate your All in One SEO.
You need this to work with Google Analytics later on. Google Analytics is super important for following your website.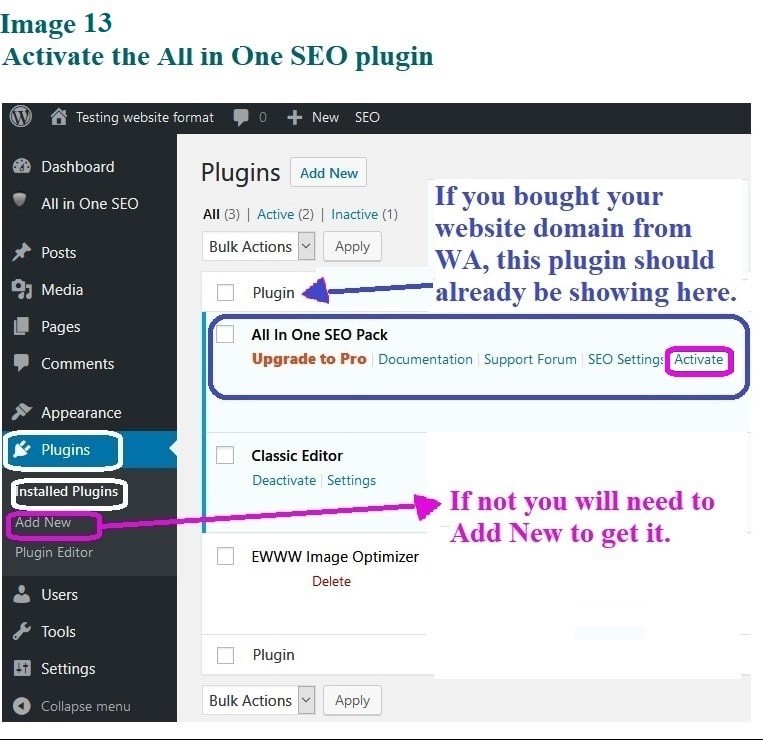 Now you are ready to write your articles. I am not going into this here but am providing Image 14. This shows how to create a Page. Posts are done the same way. You have two menus to work with. If you can only see one take a look at the Toolbar Toggle note on the image.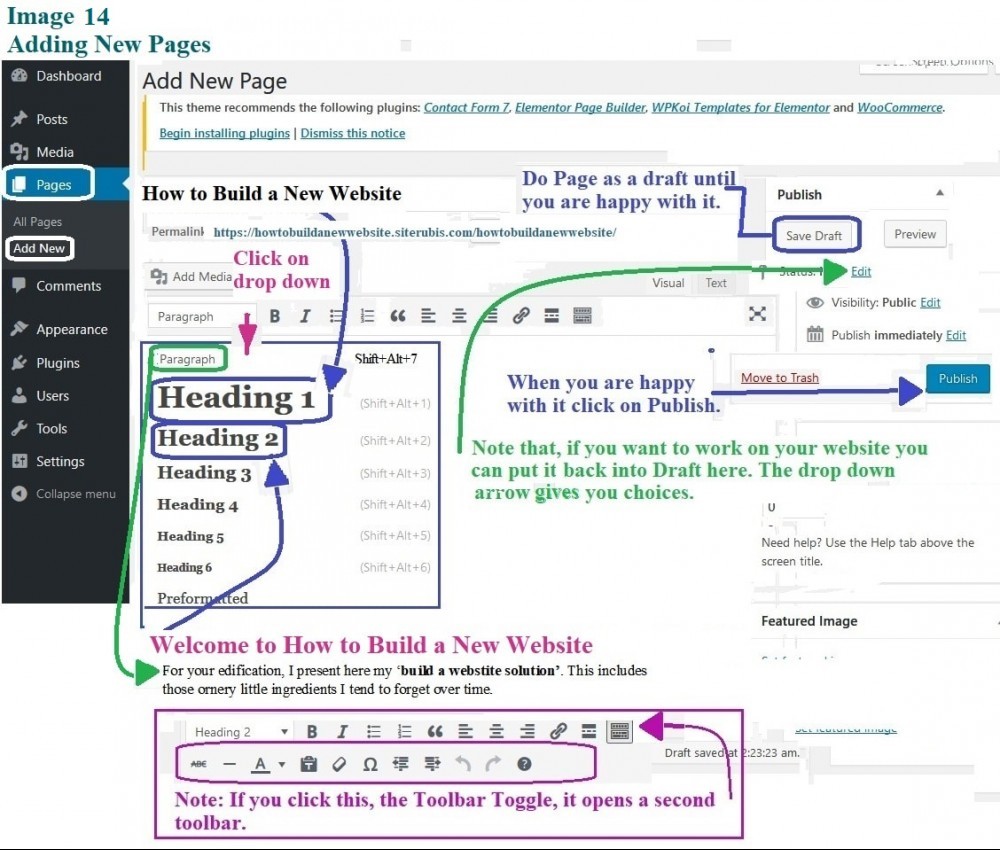 Your Website, Your Future.
Well, if you have followed my steps and have a lovely new website up and running, well done. If you have problems please let me know in the comments section below.
I know I am a bit biased but if you really want to succeed with a group that loves helping you along your way have a think about joining us. If you are tempted then have a read of my Wealthy Affiliate review. One thing you will notice here is you have the ability to have a free test run. How good is that!
Share This