Goals are the first step on the stairway to freedom and follow on from the Dreams you have about creating a website. You might like to check out Stairway to Freedom before you start this section of the climb.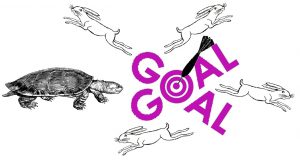 What is your goal said the hare to the tortoise.
It is to get from here to there replied the tortoise.

Well I bet I get there first said the hare.
And off he hared, so to speak!
As we all know the tortoise was slow but methodical. And he won through to his goal. The hare on the other hand raced around getting side tracked and probably pretty puffed out.
Dreams are a wonderful thing as long as they are good ones. Wealthy Affiliate can help you make these dreams come true. To make these dreams come true you will need goals.
When you decide to join us here at Wealthy Affiliate, one of the first things you will need to do is think about what you want from your, soon to be, website. I found that trying to define these goals during the first few lessons made me feel like I had been put on the spot. Therefore, I would suggest that if you really want to start out right, think about your goal or goals now. They don't need to be perfect, just get an idea of them. If you are like me write these down as things like have a tendency to slide out of my mind.
What are Goals?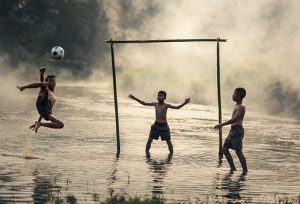 Our goals constantly shift over our lifetime. When we are very young we have one goal; demanding and getting fed. Very quickly that goal expands from this very basic one. We scrunch up our faces and try to stand and walk. We learn to dress and face the world. These early goals are extremely important, leading on to more and more goals.
As adults, our goals shift and become more complex and deeply defined. Once we achieve one, we set out towards another. This should be a natural progression through life.
Sometimes a goal is reached. Then a decision, often unconsciously but sometimes deliberately, is made to make no new goals. This is a very unfortunate attitude. One I am sure, because you're reading about Wealthy Affiliate, that you don't have. You are on the verge of throwing off the constraints of 'normal' humdrum life.
After all you are reading about Wealthy Affiliate; a very active proponent of making your goals possible and becoming true. It may be a tentative setting of goals until you learn more about the wonderful world of the internet but these goals have set you on your way to winning the first round. And there will be rounds as you learn more and more and refine your process to achieve.
So really goals are what you want from life.
My Goals
I must admit I have at times set out on life journeys without any specific goals. For instance, I set out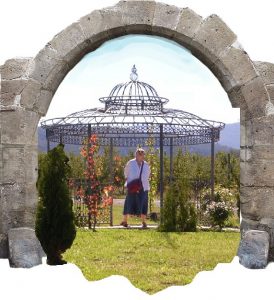 from Canada to Australia based only on the fact that my mum was born there. I had some hazy goals like meeting the Australian family but things ended there. Now this isn't as bad as it sounds. I love travelling and a main destination is always in mind. But once there I often just pack up and just head out. I have seen some wonderful things and met incredible people this way. And although not defined early these do become new goals.
One might as well reach for the sky when setting goals.
What are Your Goals?
And although not defined early these do become new goals. So if you find it hard to set your own, roughly outline them and then think about them. The right words will come but don't force them.
Some goals are pretty straight forward. Start with these and set out the mini goals to get there. I can almost guarantee you will branch out at some time, into a new direction. You can always return to these little steps at any time. Maybe the branch breaks or you achieve the desired goal. There is nothing stopping you from have an assortment of goals. But don't over complicate things.
It's a Goal – You have won
Now that I have tuned you into thinking about what you want in life and how to start getting there let's look at some potential goals.
Afford to move to the city. Certainly not my goal as I have spent 60% of my life in country areas. But many of my friends can't live outside the city.
Travel to faraway places and take your work with you. If you can connect to the internet you can work. And work at your own convenience

Split those faraway places into goals such as sea changes or tree changes; in fact make them me changes. Then the potential is limitless.
This is only a bare minimum. Just let you mind wander over potentials for you. Get organised and think about you goals. Then read about Wealthy Affiliate and come along with the rest of us on your bright new journey to freedom from the rat race.
After the dreams you have pre-Wealthy Affiliate, goals are pretty well the first steps in the Stairway to Success.
Share This