Following on from Niches and taking the next step up the Stairway to Freedom let's talk about Finding Keywords for your website.

Finding the right keyword can be a bit daunting but it is extremely important. A lot of keywords wear out, especially for trendy articles. Some are way too broad and some far too specific.
The most important thing to remember is that your keywords are guides to your website. If you have taken a guided tour with an enthusiastic and well-informed guide versus one with someone who is just doing a job, relate this to your keywords. Good ones fill you with interest if not passion. The others make you wish you were elsewhere.
With your website you want the former affect. You want the visitors drawn eagerly to your site and retained with interesting, informative and helpful content. So keywords really need to be words that people use to find your site and then keep them there to read on.
From this you can see content is the main ingredient and keywords are the icing that initially attracts attention. As my mum used to say don't overdo the icing. (Another bad habit picked up as she used to under do it and all we kids tend to overdo it. But so yummy!)
Use your keywords as these guides, fill your article with quality content and Google and other search engines will be eagerly following your website.
Keywords are the metal that unlocks the door to your posts and pages. They need to be a comfortable fit. As you are aware, trying to force a key into a lock it wasn't made for, can jam the lock. So too can inappropriate keywords.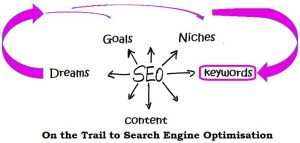 Your articles will be offering to help visitors make a choice and therefore need to be geared to these visitors and not the keywords.
Keywords should be geared to your visitors and are a search guide, not a stand-alone tool. They are the words you type into the search engine to find the information you are interested in.
I find that I often have an idea for my articles so I start writing them. Along the way words or phrases start standing out and looking like potentially good keywords. Ones that flow with the article naturally.
I use a very useful Wealthy Affiliate tool called Jaaxy to check out how these keywords will possibly work. I will expand on this for you in my Jaaxy post.
On the other hand I might have an idea for a useful post that I can find a keyword for by just going to Google. Then search for previous posts written around that idea and finding keywords. However the best place to find keywords is Jaaxy.
Jaaxy has the advantage of offering additional benefits having lots of other helpful information within.
Always think laterally when you are looking for keywords. As they say 'familiarity breeds contempt' so if you know your topic very well it is hard to step outside the expertise and find a keyword that appeals to the non-experts. After all if everyone was an expert they wouldn't be visiting your site. So you need to have an all-around appeal.

How Keywords Work
Keywords bring more visitors to your site if they look natural for the article they promote. The end result is effective keywords, more traffic and better ranking on the various search engines. All of these encompass Search Engine Optimisation informally known as SEO.  The improvement in ranking will bring about the potential for more reward.
Keywords are those that you use, when you search the web, to sift through all the information on the web and filter out the information you seek. Wow, with all the billions of bytes in crowded into the web, the right keyword does a fantastic job.
So your mission, should you so chose, is to find these fantastic keywords and select the best one to be your focal target keyword. Sort of like the Vanishing Point in drawing it draws the eye in.
Work this word into your article name and the first or second paragraph. That is it.
The niche you have chosen might be a great keyword or phrase. It's up to you to figure this out. Jaaxy will certainly help you do this. The nice thing about Jaaxy is that you can initially access it for free but that is limited.
Over Using Keywords

 
Using the same target keyword in the same format, is called Keyword stuffing. This occurs when the same keyword is repeatedly used throughout your article. Don't Do This!
You might find keywords that attract lots of traffic but have nothing to do with your article. Don't Do This!
Inappropriate keywords and keyword stuffing make Google and other search engines quite twitchy. In fact, they may start ignoring you.
Overused target keywords also can become very annoying to your visitor, so much so they might get fed up and leave. It's like the child that keeps repeating 'are we there yet; are we there yet' like a broken record. Article writing can be just like this if words or a phrase are constantly injected.
Don't you worry about using the target keyword sparingly. Notably all words or phrases are potential keywords. Once you get going with your website you will be able to view data about how many of these words each article actually ranks for. Believe me some very odd ones rank.
Summarising what you need in a keyword:
As a guide to your website

That ask a question of your potential visitors. How to's are a great example! People often come to a website to answer questions they have.

Look at your site's product and formulate questions around it. Then use these as Keyword phrases. (Affectionately known as 'Long Tail Keywords'.

That suit your topic comfortably.

That basically go with your flow
Good, sound keywords will give you and your website an authority that will draw visitors to you and draw them on to read more of your posts. Overuse is not a good sign of optimising your website. People notice and your authority is lowered.
Good keywords will attract the right kind of visitors to your website. People who need your input on making the right decision for themselves.
Never worry about not being able to find a lot of great keywords for your site. As I mentioned above every word or phrase of words are keywords. (I expect the 'a', I, of's etc of the written word won't be too effective though!)
Finally, once your website is up and indexed in the search engines, go and take a look at all the keywords your site is actually ranked for. Some of these might be great for a new article.
Following your dreams, goals, niches and keywords the next step is to read about the best keyword tool in the world and how to use it in your keyword searches to advance up the Stairway to Freedom.
For further information I have written a blog for my fellow Wealthy Affiliate colleagues. If you would like to have a read you can find it on this link.
Share This