I guess the first thing to say, is what is a day in the world of wealthy affiliate?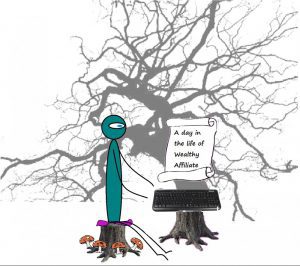 The best answer for you is, it's any day of the year that you go into Wealthy Affiliate and have a serious but fun day playing with your website. Some visit for fun. Their website is their relaxation. But how wonderful it is when, all of a sudden they get an income return on their fun.
For others, it is serious business. Even serious should be fun to do. If not, it can be a discouraging business.
A Wealthy Affiliate Day
I am going to tell you a tale about 'A day in the Life of Wealthy Affiliate'. Well perhaps it started last night for some.
To have serious fun while creating yourself a website, you need to plan. You can't go where the wind blows or you might end up all at sea.
Well maybe you wanted to go there, but it's best you control your destination at least somewhat. You can always take forays or detours in other directions and some of these may be fantastic.
Writing out your daily plan is often best done with pen on paper. For me it seems to stick better. I do then transfer it to my computer. This way it is really easy to do a general search if I need to look some past activity up.
Initially this captivating realm can be quite confusing, especially if you haven't really played around on a computer before.
Although one of the first things you need to do is start either of the two courses WA provides. Before you do that, I again say plan. Your first plan will most likely be quite scant but everyone has to start somewhere and let me tell you, plans grow more and more rapidly. You will get lost without a planning website diary
So your very first item on day 1, will be to set up your free Starter membership. That will be Plan Item 1.
Then follow on by starting either the Certification course or Bootcamp. I suggest you start with the first one.
As you proceed, you will be able to fill in your daily diary with more and more items. If you do this from day one, you will find things more easily fall into place. To get some idea of the path to Independent Lifestyle take a look at my Stairway to Freedom.
The Website Diary
I have always had diaries. I have not always used them! To my detriment of course. I know where I have been and where
I am going. Unfortunately many finer details have gone astray along the way. I do lists though and your website diary is a form of these.
If you want to be successful you need to know both where you are going and where you came from. The second one is a learning tool for you to use to improve your path.
So either in the morning, or the previous evening, we write out in our 'to do' list, what is planned for the day. Now you shouldn't set this in concrete but do follow the general stream of activities.
Something else I have found over the years, is, when you do a diary activity that requires a number of steps WRITE these into your diary too. Many times you will do something once in a blue moon. By the time you need it again, you have forgotten, either partially or completely, how to do it! Yes this has happened to me. Make sure you can read your own writing. Another me issue!
Community Communications
Now this article is based on my day and world.
Wealthy Affiliate (WA henceforth) is about communication. Whether it be written as comments between members, articles on your website, sharing on social media or blogs within WA.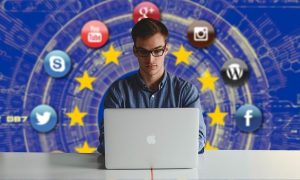 If you, like me, check your email first thing in the morning it will soon get to the point that you will be overwhelmed with emails. This is not necessary and you can fix it. I got very frustrated with spending an hour or so going through these. So I figured out how to overcome the issue. Check out my tutorial on this. When you join us here, you can use it to cut down on the problem. And no, you won't miss anything because these show up in your notifications once you login to WA.
With regard to notifications you will be greeted with a page of them from pals you make. These are the people who follow you and who you follow in return.
There is also a stream of 'activities' coming from any contributing member. Some of these will become your pals. Every day I check these out and interact with other members. By doing this I further contact with those I follow and those I have yet to follow.
As you interact, you will be greeted by a flood of folks who want to maintain closer exchanges with you. Every day I read and action a few of these. If I don't, I really fall behind in welcoming new friends. But most our members have really interesting stories. So you must be wary of focusing all your time doing this.
As is said, time does fly. And many WA members will be signed in at all hours of the day and night.
All I can say is stay in control of your days. Take a break. Eat, drink and breathe. You might want a nap occasionally so you don't burn out.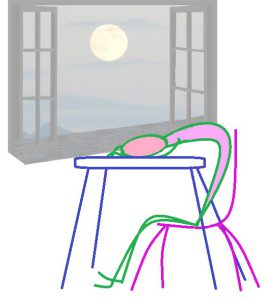 Take a Break and Loosen Up
I really need you to remember, that we people thrive on this. Maybe we are all nuts but working hard is the way to success. And a certain flair too!
As you become more in tune with WA's program you too can thrive. If you want to.
OK, so now I have warmed up the morning it's time to take some loosening up exercise. The best one is to walk to the coffee maker or kettle and make yourself a nice cuppa (cup of!) coffee or tea. While it's brewing grab a large glass of water. I keep filled and by my computer. Also, take a walk around the yard or down the street.
If you become as absorbed as I do you will forget to do this and most likely suffer the next day. Fresh mind and body will progress you more rapidly in building your website.
A Wonderful Wealth of Questions Will be Worked Out
Alliteration, what a Wonderful World of language!
Never, ever let yourself be confused over any action or activity in WA. If something stumps you, Seek Help right away.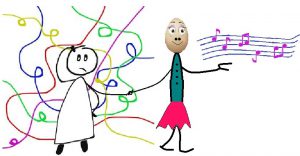 There are many ways to ask us WA people's help. Before this, do follow the lessons. A lot of Starter members ask questions that are answered in them. Basically it is important to follow the lesson plan to the finish.
Here are my pointers for asking questions.
Ask your question clearly. Make sure you say what it is you need help with. And put that most important word first.

Remember that once you get really involved here you will be very busy. So are we. When we glance through questions, we don't want to have to dig deep to find out what the problem is. But we really do want to help you. So help us and yourself then we can give you a quick and (hopefully) accurate answer. I expect many people don't have the time to find out what you want if you don't say so!

Once you become a Premium member, you have access to 'Live Chat'. This is a continuously moving, 24 hour question and chat area. You usually get very quick answers if someone knowledgeable is on line at the same time. If you don't get an answer ask it again in a little while.

Also, use the 'Search for Help' box at the top of the opening page. Once again, it is extremely important to word your question correctly. Note, if you need a question answering, you can bet your bottom dollar that others before you have also asked your question. You will get answers here. If not there is space at the bottom of the question area, where you can write out your questions.

Finally, as a Premium member you can ask someone via Private Messaging. Generally I use this to ask people who have shown me they are experienced with website work. Or to provide feedback and answers  that are inappropriate to broadcast.
If you don't get an answer keep asking. Try and reword your question/s.
And the Day Ends
Very quickly:
Plan Your day.
Day 1 of your future life with us will be to set up your (initially free) account with WA
Day 1 will also include starting the Certificate lessons.
Day 2 onwards will be based on:
What you read in the lessons, websites or WA blogs.

The emails, notifications and activities you receive.

The questions you need to ask.

The questions you can answer for others as you advance; the pay it forward principle.

The website work you need to do, including pages, posts, formatting.

And I am sure you will find many more activities based on the above.
Don't over extend yourself. Make sure you do take regular breaks.
At the end of the day you finish free Starter membership and you decide to continue you can keep on doing it for free. But believe me if you can go Premium, these areas will throw their arms wide and welcome you. You will be forever thankful you did. If you do go Premium within 7 days take a look at what goodies you will get.

I would love to meet you here at Wealthy Affiliate.
Share This