A very warm welcome to Working on the Wildside, the place you can step outside the accepted work'box'. My website will lead you to working from any place you desire and stimulates you. Be it a life away from traditional employment, wanderlust or escape from the madding crowd if you so choose.
Helen the Nomad
I was born in Redruth, Cornwall quite a number of years ago! I didn't stay there long as mum and I quickly joined my father in Ghana. He was a mining engineer at the gold mines. At the age of 3 our family moved to British Columbia, Canada. So you might be able to tell from this that I was born into the nomadic world. I still continue with this trait albeit at longer intervals.
With my sense of adventure tickled I decided to board a P&O ship and sail to Australia. Since then, I have lived in New Zealand and visited back and forth to Canada.
In each country, I have circumnavigated and bisected it and easily found work whenever necessary. Nowadays that is a lot harder so I completed a Bachelor's Degree in Civil Engineering to enhance my opportunities. (Also to continue being a nomad and allowing my now retirement in a combined sea & tree change manner.)
I Love to Help People
Along my nomadic working life I have usually ended up as the help person. I take information on 'how to do' things and rewrite it so my colleagues can actually understand it and learn how to realise these things. I found I really enjoyed this and now I want to help others find a way to achieve the life that rewards them in many ways.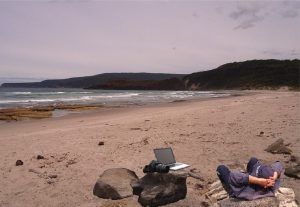 My greatest wish is to help others decide if they want to chuck their existing existence and achieve this lifestyle because it is so enjoyable. Hence, Working on the Wildside: that is, be who you want and not what society tends to force you to be; live where and how you like. My like has been for the wilderness and for the last 30 years I have lived in the semi-civilised Australian 'bush' (which is not the complete Outback of this fine country).
A few years ago I joined Wealthy Affiliate (WA) to learn about website building. I did an affiliate blog type site. I have learned so much I now wish to pass that on to you and would love to see you become who you would like to be.
Going through my site allows you to see how I achieved my website.  Here you will find my Stairway to Freedom article that will give you some idea of the scope of information you will be given.This site comes with the ability for you to leave comments and questions as you read through it. Then I can guide you with my responses. I will post information on the great advantages WA can provide you with. The processes you will need to do to achieve your website.
And I will stress right now this is not a get-rich-quick group and you will need to focus, be consistent and work hard. At least at first. A well-built website will really work, not only for you, but also with you.
Working on the Wildside's Concept
Initially, when you go to the WA website you get 10 free lessons. I loved this as I could try before I buy. I also found out I didn't need to buy but could continue on for free but with limited activities. Well as you can see I did buy.
You can read my Wealthy Affiliate Review to help you make your mind up if you whether or not you want to join Wealthy Afiliate. You can keep in contact with me very easily so you can pop over and ask any relevant question you need to, or we can just 'chat' about what you are doing. In fact, once you become a Premium member, you can do this with any member. Help is always near. I will also get notification of any work you do and I will go and read it.
Basically my initial advice is to never underestimate yourself. You can change your being however you like. So come and join me at WA.
I reiterate that I will lend a hand and answer your questions. If you have any after reading this please leave them below in the comments. I will be more than delighted to help you out.
I have mentioned help a few times. Let me tell you, the help here is second to none. There is a search bar to see if anyone else has answered your questionl There is a place to type in your questions. There is a Live Chat area that operates non stop with various members on line at any time. Sometimes you might have to visit Live Chat a couple of times as members drop in and out. Just wait and someone who can help you will appear.
All the best
HelenpDoyle
helen@workingonthewildside.com 
Share This