You are now ready to create and build your website. You can make it something wonderful.


Let's put all the previous information together. We have looked at your dreams, goals, niches and keywords.
Precise to Recap What's Been Said so Far
First of all to summarise the main points of the articles leading up to this point. There has to be a method to get the best result for yours and anyone's website.
Wealthy Affiliate Tools: Stairway to Freedom chats about the steps required for you to create your affiliate marketing website. If you haven't already done so, I suggest you go and start at this article.
I have also written a series of posts highlighting the various, individual steps to get to this point. To follow the Stairway follow the posts hanging off this page on my website menu.
And now it's time to get down to business.
To start with, if you haven't already, sign up with Wealthy Affiliate for the free trial.
You will the ability to create two 'SiteRubix' domains. SiteRubix is part of Wealthy Affiliate's stable and is the basis for the SiteBuilder package.
All the initial WA lessons, create a SiteRubix website first. So you will have a full support and training team and all we members at beck and call. Just remember to keep planning on what you want to achieve.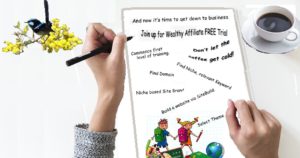 You will also gain the ability to create two .com (or other) websites (I am going to refer to all potential domains as .com so I don't get confused!).
When you have your website built up to certain level you can then switch it over to your own .com. One thing about doing this is, you will have to check if the theme you pick for your .com website is mobile friendly. An important fact as so many searches are now done on devices.
If you decide to remain a SiteRubix website it will be mobile friendly.
Find Your Domain Name
The best place to start is by using your target keyword to find your domain. You can do this right in Jaaxy. As noted in my Jaaxy Review, there is a column headed Domains.
Firstly you need to do a domain search on the keyword. With any luck your will find a .com matching it. If not, .org or .net is OK. If you can't find one of these try and juggle your keyword to get another good .com domain.
The thing with the process of doing this is, and your website, you will be back and forth with Jaaxy quite a lot. It's a great Wealthy Affiliate tool.
When you find the domain for you then buy it. All the domains I have looked at cost $13.99. A price that is pretty well the best of any domain host.
Website Needs a Brand
When people come to visit your website it's almost essential to have a brand. My site has a combination of a logo and an image. I chose the image to relate to my website name and target. My target is people who want to work from anywhere. Those who love traveling to way out places. Or those who live in these places but still want to have an income without entering the rat-race.

Your brand should reflect the goal you want to reach via your website! That goal is your target audience. Include the words such that you state or imply helping them.
When I am working I can sit on my veranda, write up my daily notes and watch the native birds feasting on the manfern spores.
Or I can look out my office window and see the morning mist. So much better than the daily grind of an hour's drive to and fro the 'normal' working place. Even better as much of my work life was driving between construction sites.
When you have an idea on your brand, you can use a website called Canva to create it. If you have your logo ready and any image you want to include you can upload them into Canva and play with it until you love the final product.
Canva also has lots of templates and images. Some are free and some cost $1. Guess what I use. I then incorporate my stuff onto the template. One WA member has some great training on this.
https://my.wealthyaffiliate.com/training/use-canva-to-create-your-own-graphics/designing-with-canva
Website Construction
You now have a brand so here we go on creating your website. The following image illustrates the information you need to fill out WA's SiteBuilder. Now don't you forget about the importance of keywords in the URL and Title. Match the title as closely as you can to the URL.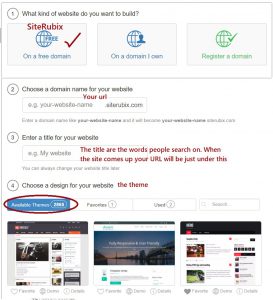 Once you select your theme, a box opens that says 'click here to Build this Site'. Pretty easy hey. Well it does take time to find all the information but once you have it entered building the site takes about 30 seconds!
Just a note here. When you are creating a website where money exchanges hands, you need to have a secure site. SiteRubix sites aren't secure. When you move your SiteRubix over to a site you own through WA, then you will have a secure site.
Article Content
Again I direct you to the image below. (As is said, a picture is worth many words!)
The statistics show that I have published 8 articles and have one unpublished. Well that is understandable as it is this article that I am building.
Google loves quality articles. So the word count can be quite an important indicator on where your website might rank on the search engines.
Now going down the image, you will click on Create New. Then you can chose 'Start a Blank Document' or 'From a Template'. Wealthy Affiliate initially includes several pre-made templates. As you progress you will learn to create your own templates.
This can be a great time saver in planning your content especially if you use the same format for various types of articles.
With a new empty document up, off you go and write! As you go you can hit the Save button. This retains your work but doesn't publish it.
When you are completely satisfied with the finished work, run the spell/grammar checker (ABC) over it. And then publish it.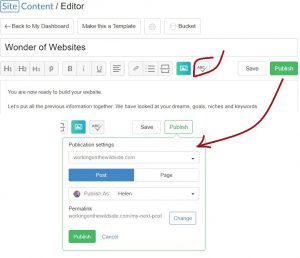 Generally you will be publishing as posts but you will have a few pages too. If you have too many pages your website main menu can look quite messy.
Following publish, I get a choice on what I can do. I always view in WordPress, the next topic. This way I can tailor the article to suit me with additions activities. One of which is inserting my own images. SiteContent has thousands of images but they are all someone else's.
WordPress the Next Element
As far as I can gather, WordPress is the most popular website builder in the world. I love it and used it exclusively, through WA, until SiteContent was created. Now I use both and get the best of both worlds.
WordPress, like SiteContent, does't need you to code. Most of us learn to code and some members are coding masters. WordPress gives you the option to code.
Also, as WordPress is an Open Source Community Project, there are thousands of people contributing and shaping it. So when you use it via Wealthy Affiliate you use it for free. You can join elsewhere for free but you then lose you chance at all the WA training.
You can see here, the WP dashboard, showing part of one of my previous articles. This gives you access to themes, SEO (Search Engine Optimisation), how you theme looks, plugins and much more.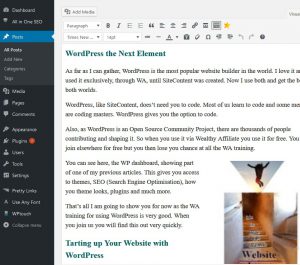 That's all I am going to show you for now as the WA training for using WordPress is very good. When you join us you will find this out very quickly.
Tarting up Your Website with WordPress
Additional features, that I will cover in the future, allow you to physically move your pages around. One of these is the Widget. My theme, and many others, can place pages and other items in the side and footer areas by using widgets.
Join us at Wealthy Affiliate and find out how to easily use these and other features. It's so much easier when you have loads of people to help you. 
If you have any comments or questions I would love to talk to you.
Share This