Company: Bluehost Web Hosting (part of Endurance International Group)
Website: Bluehost.com

Founder: Matt Heaton
Frankly, up to recently I had never heard of Bluehost. The funny thing about this is that I spend a great deal of time on the internet. A few weeks ago, up popped their flier on several sites I visited. Maybe they finally found us, way down under in Tasmania. Following a great deal of fossicking the web I am giving my Review on the Bluehost Website Builder.
After reading it, apparently they are one of the most popular hosting platforms out there. Not having known about them, I already belong to an affiliate marketing network and have my websites up and running. And yes, I will be giving you a brief rundown of Wealthy Affiliate further down in this article.
However, being an ever inquisitive person I thought well let's see what Bluehost has to offer. Also, already being occupied with website building elsewhere, I will give you a balanced review so you can make your choice about Bluehost's package.
Bluehost History
Bluehost started out in the salt lakes area of Utah. Initially it was a free hosting service under the name Ocatch. Matt was co-founder of this company and went on to develop a web hosting platform, based on the Ocatch fundamentals with added features. The new platform was Bluehost.
Over the years Bluehost has expanded from hosting, to cover all aspects of website building. Heaton handed over his post to another and dedicated himself to the mechanics of holistic website building.
Since 2010, Bluehost has been part of the platform of the Endurance International Group (EIG). It appears that the companies within this group retain their individual identities. EIG seems to be a conglomerate of smaller hosting businesses. Very many small businesses at that. They provide these businesses with a pool of tools and talent.
Reading the recent reviews out there, Bluehost has 2 to 4 million sites. Most of the information I found notes over 2 million. While Endurance International Group has over 4 million. Okay, let's agree on a number of more than 2 million for Bluehost. That's still an enormous amount.
Bluehost Analysis
What does Bluehost Provide
Bluehost has three packages available. Basic, Plus and Prime. I have snagged a table for you, illustrating the price and features included in each package. Please note this is taken form Bluehost's website so should be the correct prices. Many of the reviews I have read have different ones. These reviews are generally undated.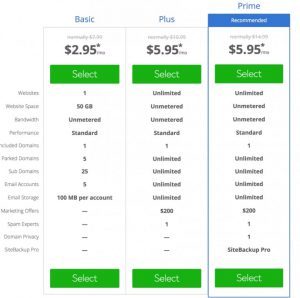 Bluehost Hosting Means
Generally shared hosting is used. Shared hosting is very affordable as many users share a set number of secured servers. The hosting company manages these, removing the need for individual management of them.
VPS hosting is also available. VPS hosting is compartmentalising of physical servers into virtual space. This space acts like a dedicated server within a shared hosting server. This provides a controllable server for a reasonable cost. One that the user manages.
A dedicated server is also an option. As can be derived from the name – one user; one server.
Cloud hosting can also be obtained, the 'cloud' being a series (two or more) of servers. With this your website is maintained using the resources across more than one web server over a wide area. If one server goes down the necessary resources are almost immediately supplied from another server in this cloud. I can't find where Bluehost has its servers so don't know if the system is covered if their region has a power failure. I have also been told that the users only pay for the resources they actually use.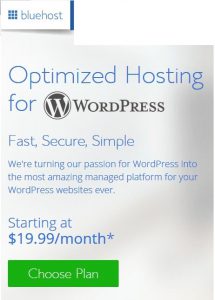 And finally Optomised Hosting for WordPress is available.
A comparison of the hosting prices, other than WordPress hosting, is tabled below.
Note that the shared hosting is the hosting received with the Basic Bluehost package. Visit Bluehost's site to see what you get at each level.
You land on the Cloud hosting and can access the other via their bottom menu.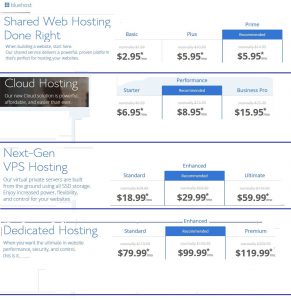 Bluehost Interesting Facts
 After reading copious quantities of material I will tell you that there are mixed opinions on Bluehost. From love to hate in fact. I want you to remember that many comments are not dated and may be obsolete as Bluehost has been improving several areas.
I gauge that there are a great many good things and several not so good. The main not so good will be covered in the Cons below. You will find most of these are in regards to customer service and costs.
It appears that the cons outweigh the pros but I don't believe this is the case. Take a look at the table to see how much you will get with Bluehost Basic. 
I have included a number of comments that I have found from various sites. You will find these in this colour.
Pros
1.     It's affordable to start with. And you can get started relatively quickly. There is a money back guarantee if you chose to leave within 30 days.
2.     Bluehost's system availability is pretty terrific with high Uptime. Uptime is a measure of how long the system is available. This system is reliable and stable. A good explanation of this can be found on Wikipedia. 
A search for the uptime was done in 2017 and resulted in a range of 99.90% to 100%, most being on the 100% end.  That's pretty darn good.
I am in my second year of hosting my first-ever website on Bluehost, and I have had no problems or down-time.
3.     Page speed has improved over 2017 until it is now in the top 10 hosts. Any issue with slow speed can be very detrimental to your website. Even as little as a half second delay! Any longer delays and the drop in site visitors will probably drop significantly.
4.     Good security protection.
5.     Bluehost provides a wide range of website and website promotion tool
I've been using Bluehost for about three years now. As shared-hosting providers go, they are a notch above similar providers. Speed is above average compared to others I've used in the past. Though I haven't needed their support staff a lot in the past few years, the few times I have, they've been responsive and friendly. I have just renewed my hosting account for another three years and I can honestly recommend Bluehost to anyone looking for a stable and dependable hosting solution.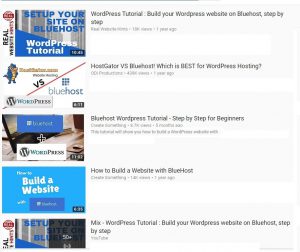 6.  In spite of the 'obtain help' information in the cons below, Bluehost's YouTube channel is very helpful. I recommend you find the pertinent training there and watch it. This way you can get at least some of your help before you have to approach the help team. In fact, you might get all of it. You will need some time to do this as there are a lot of videos.
Count me a satisfied customer. This website is the oldest of the four I've hosted at Bluehost since 2010 — and I wouldn't dream of moving any of them. They are cost-competive and service oriented. By the numbers:
1. Account services and maintenance has always been excellent. They were good to work with setting the accounts up, and were very good helping me set up the best value package to meet our needs,
2. Security is a strong point. I appreciate their diligence in protecting my asset. I would characterize them as an optimal mix of strong procedures and realistic administration.
3. Tech support– Has been top of the line — knowledgeable, good listeners, patient, and understanding, excellent communicators.
Cons
1.  As I mentioned the main bone of contention appears to be the site support. I found many site visitor comments on this. Site support is a main feature of a good website host and site builder. So any issue here does reflect badly on the business.
I know Bluehost has a pretty extensive workforce. Even so several million sites is a lot to handle. However, having to wait for significantly long periods will surely frustrate you. You need to take the huge volume of sites into consideration.
However there are a lot of people who don't have an issue with site support as shown by this comment: I literally can't state just how happy Blue Host makes me. Everytime I call in, they are super friendly and knowledgeable. I don't have to wait 30 minutes for someone to answer the phone either. Anytime I have an issue, they literally are HAPPY to resolve it. I have yet to speak with someone at Bluehost that was rude or not helpful. THEY ARE GREAT and I HIGHLY RECOMMEND using them. Awesome job blue host!
2.  Yes the starter price is really good but you have to enter into a 3 year contract. You can get a shorter period of one year but the price increases. Anything less than this is impossible.
3.  You can cancel but I find that may take a bit of jumping through hoops.
One comment I reviewed noted: I called ahead of time to avoid any auto renewals. I specifically said I wanted to cancel everything. The representative told me everything was all good to go and that there would be no charges moving forward. 3 days later I received an email showing me a new charge on the credit card on file. I called to complain about it and they said they were going to refund it but that it would take a week to reflect on the credit card. Literally 2 days later I receive another email letting me know of yet ANOTHER CHARGE! I can't help but feel like BLUEHOST IS A SCAM. The 4th customer service representative told me it is just an error and happens all the time. I would stay away from this company.
4.  If you chose this hosting platform, I suggest you go for the three years. If you aren't happy by then give it up.
If you decide to renew once the initial 12 months are up the renewal fee jumps to 3 times the price.
5.  The 30 day money back guarantee doesn't apply to all things. Add-ons such as your domain isn't included. Also if you have a free domain, as is offered in the basic plan, money will be deducted from the refund. After 30 days, you will be out of luck.
6.  There seems to be a number of add-ons that cost. For example, if you opt for different hosting to the shared offered in the basic the price increases. Sometimes substantially.
7.  If you do the introductory walkthrough, that costs $80.00. Actually $79.99 but what's a cent!
8.  If you have a pre-existing site, you will be charged to move it to Bluehost. This is in the vicinity of $150. A bit pricy when most providers do it for free. Hey a bit of good public relations for the providers who do this!
I have four websites hosted with Bluehost and after having my fifth website designed I decided to have it migrated over. This is a big membership style website and I wanted to have as little downtime as possible so I had the migration done by Bluehost a couple days before New Years when my business would be slow. They told me my SSL certificate would migrate over, my site was not secure so then they told me they were wrong and I had to get another one. 30 days later the site kept having many issues and not secure and then to find out Bluehost never completed the migration properly so they had to do it all over again. This took another week. ….
9.  Their Terms of Service's fine print needs to be read. There are some negative points in there. You must, or get a professional, to read these terms so you don't get caught out.
Is

Bluehost

a Scam?
Personally, from what I have read, Bluehost is anything but a scam. They do have a few items I find questionable, but anyone looking to join them should find these issues. That is, if they do proper research before making their decision.
So no, I don't believe in any way that they are a scam. As a buyer the old adage 'Buyer Beware' holds. Do your homework before you make your decision.
I have read many reviews on Bluehost and I have found many conflicting comments. As noted before there are love, likes, dislikes and hate comments. These you need to find for yourself and have a read. I am not going to translate them so to influence you.
Are

there

Alternatives to Bluehost – of Course there are!
Take it for read that there are a vast number of hosting sites out there and it would be impossible to read and judge them all. I do believe there are many that offer the same or equivalent products and services. It is a matter of choice to what you want from your website host.
While Bluehost offers a great assortment items and services, I am really rapt with what Wealthy Affiliate (WA) offers.
What WA offers is a full package that is all-inclusive and remained at a constant price for quite a number of years. You can do a try before you buy free trial. This includes a number of free keyword searches via their Jaaxy program. When you finish this you can remain as a free member but obviously there are limits to what you get. Well they do have significant running cost.
Also the package includes free hosting and you can obtain a keyword rich site domain at one of the cheapest costs.
You can upgrade to Premium for a very reasonable rate (especially as you have no add-ons). In the unlikely event that the price will increase, not anticipated ever, what you paid is locked in and won't increase. Note that all hosting is included in the one price.
At this point you can upgrade to a paid Jaaxy inclusion or remain free with Jaaxy Lite. Just note this has more functions than the trial Jaaxy but less that the  paid for Jaaxy Pro.
For a full review of what Wealthy Affiliate offers have a read of my WA Review.
Share This